Understanding children like a mother does – Caring for children as our own offspring
Enrollment
Sign up for a trial study
Learning Space
Sign up for a tour
Welcome parents to VBBS

Vietnamese British Bilingual School
Vietnamese British Bilingual School system – VBBS is a kindergarten system with the education
orientation of international standards. VBBS aims to bring an ideal learning environment
and a solid foundation for the children to develop comprehensively in the spirits of Confidence – Independence – Self-Awareness right from the first years of life.
TRUE FIELD TRIP - CÁC BẠN NHỎ VBBS XEM BIỂU DIỄN KỊCH "VƯƠNG QUỐC THÚ NHỒI BÔNG"
Trường Mầm non Song ngữ Việt Anh tổ chức cho các bé xem biểu diễn kịch "Vương Quốc Thú Nhồi Bông" tại rạp xiếc Thành phố Hồ Chí Minh.
Thời gian tổ chức: Bắt đầu lúc: 07h00 Thứ 3, ngày 25 tháng 07 năm 2023 – Kết thúc lúc 11h00 cùng ngày.
Địa điểm: Nhà Hát Cải Lương Trần Hữu Trang – số 136 Trần Hưng Đạo, Phường Phạm Ngũ Lão, Quận 1, Tp.HCM.
Reasons for choosing VBBS Bilingual School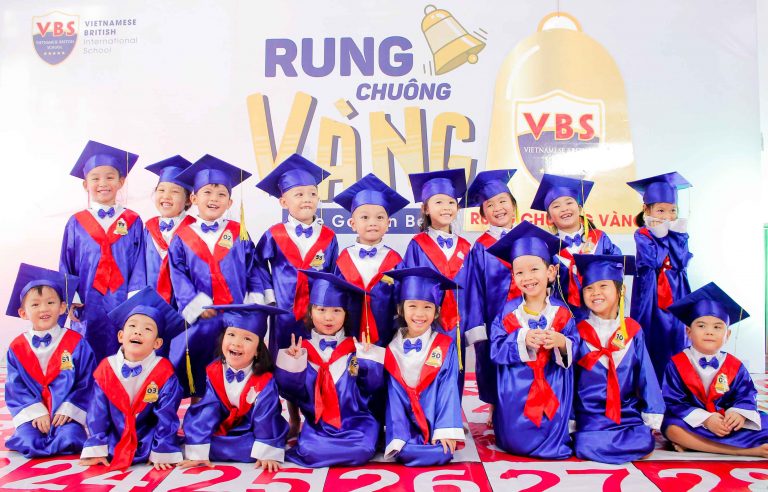 In order to create a useful and healthy playground for children, VBS organized The Golden Bell – Ring the Golden Bell. The program was exciting with…
Video channel of VBBS Bilingual School

Sign up for a trial study